Crossrail Benelux N.V. (AG)
Crossrail Benelux
Crossrail Benelux SA

Cargo-Bahn des transalpinen Verkehrs, seit 2019 Tochtergesellschaft der BLS Cargo AG / Cargo services in the trans-alpine traffic, since 2019 subsidiary company of BLS Cargo / Services de cargo du transport trans-alpin, dès 2019 filiale de BLS Cargo SA
Initialen der Gesellschaft laut Bundesamt für Verkehr (BAV) / Initials of society according to Federal Office of Transport (FOT) / Initiales de la société selon l'Office fédéral des transports (OFT): XRAIL
Eintrag der Gesellschaft im internationalen Fahrzeugregister / Entry of society in the international vehicle register / Inscription de la société au registre international des véhicules: XRAIL
Achtung: Es gibt auch eine Kooperation europäischer Bahnen namens XRAIL! / Attention: There is also a cooperation between some European railways called XRAIL! / Attention: Il existe également une coopération entre certains chemins de fer européens appelée XRAIL!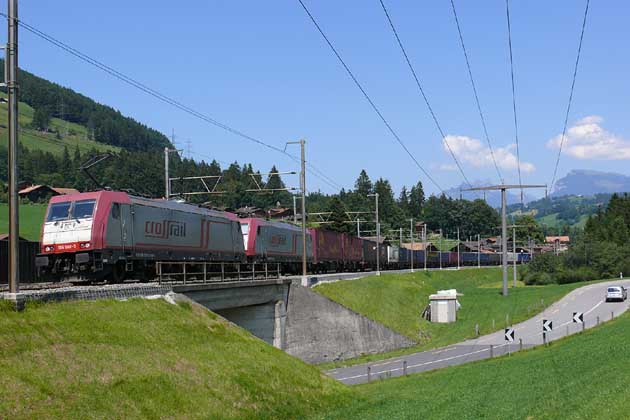 ---
Diese Seite wurde zuletzt am 5. Juli 2020 geändert.
This page was updated on July 5, 2020.
Dernière mise à jour de cette page: le 5 juillet 2020